The Hawaii Doodle Book: A Fun Doodling and Coloring Book for You to Finish by Alina Niemi
Paperback
128 Pages
Interior black and white
Includes Glossary
Includes Hawaiian language pronunciation guide
Do you love to doodle but can't think of anything to draw?
Want to learn about the Hawaiian Islands?
This book can help!
Draw and Color While You Learn About Hawaii
This doodling and coloring book is full of pages, each with a drawing idea or kick start for you to finish. You'll also find information about Hawaii's unique culture–food, animals, people, and more. Find out what makes it such a special place that people love.
No special skills needed
You might worry that you can't draw. In fact, you really can…you just don't know it yet!
The book includes how-to-draw tips to help you. Then you take over and make it your special creation.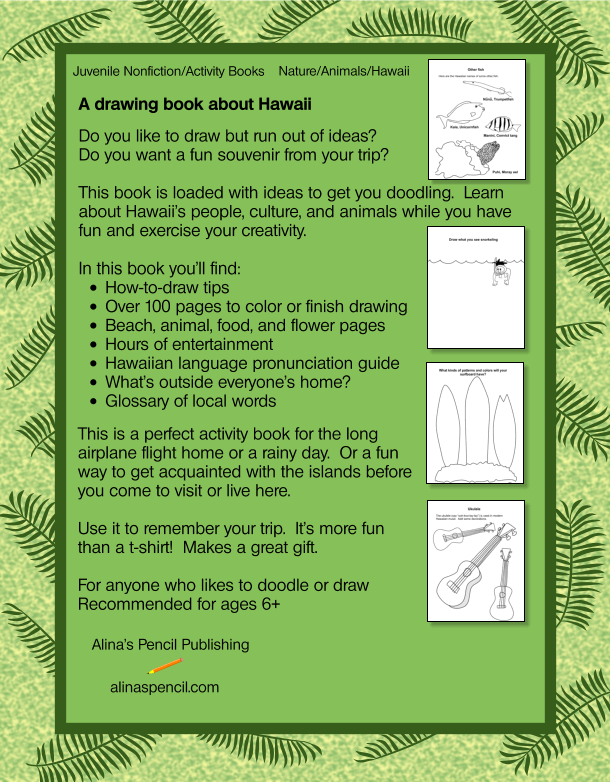 Sample Pages from The Hawaii Doodle Book
Pages include:
Decorate the board shorts
Color the beach scene
What's in the tide pools?
Draw the volcano erupting
Color the nene geese and draw more
Makes a great souvenir or gift

Learn about the islands before you visit or move here.
Pair it with colored pencils for a great gift that will keep the kids occupied for hours.
Fun for a rainy day.
Take it with you on the plane or a car trip.
Get it as a souvenir of your trip. It's more fun than a t-shirt
Provides hours of entertainment. Great to help someone who is sick or in the hospital to pass the time.

For Kids of All Ages
This is for anyone who loves to draw. Sure, kids will love this book. But adults find it's a great way to be creative, learn about Hawaii, and have fun, too. Haven't you wanted to decorate your own slippers or bikini? Now you can!
Recommended for anyone who loves to doodle or draw
Recommended for ages 6 and up
Disclaimer: I am affiliated to the products recommended on this site.