The New Scoop: Recipes for Dairy-Free, Vegan Ice Cream in Unusual Flavors (Plus Some Old Favorites) by Alina Niemi
The New Scoop: Recipes for Dairy-Free, Vegan Ice Cream in Unusual Flavors (Plus Some Old Favorites)
Published November 2011
Alina's Pencil Publishing
Paperback, 224 pages
ISBN: 978-1-937371-00-5
Be the boss of your ice cream!
Learn to make dairy-free, vegan ice cream, sherbet, sorbet and frozen yogurt at home easily, with or without an ice cream machine (although a machine is recommended.) Use easy-to-find ingredients, and nondairy milks and sweeteners.
Recipes in this cookbook include standard favorites, such as Chocolate, Vanilla, Strawberry, Mint Chocolate Chip, Mocha Almond Fudge, and Pumpkin Ice Creams. But there are also more unusual flavors, such as Tomato Basil and Black Sesame Ice Creams.
There are also complete instructions for making yogurt at home, which you can then use to make frozen yogurts. And one entire chapter is dedicated to making Mochi Ice Cream, with step-by-step directions.
Vegans and people with allergies, lactose intolerance, or food sensitivities will find this a useful resource. Ice cream lovers with a sense of adventure can attempt some of the more unique ice cream flavors, such as:
Taro Ice Cream
Strawberry Basil Balsamic Ice Cream
Papaya Frozen Yogurt
Lychee No-jito Sherbet
Chocolate Curry Ice Cream
Cucumber Mint Frozen Yogurt
Mochi Ice Cream
Chocolate Lavender Ice Cream
These healthier recipes are soy, coconut, rice, and nut milk based. They contain no cholesterol and are lower in saturated fat than their dairy counterparts.
Stop paying ridiculous prices for mediocre non-dairy treats. Make your own delicious, creamy, dreamy concoctions at home with this cookbook.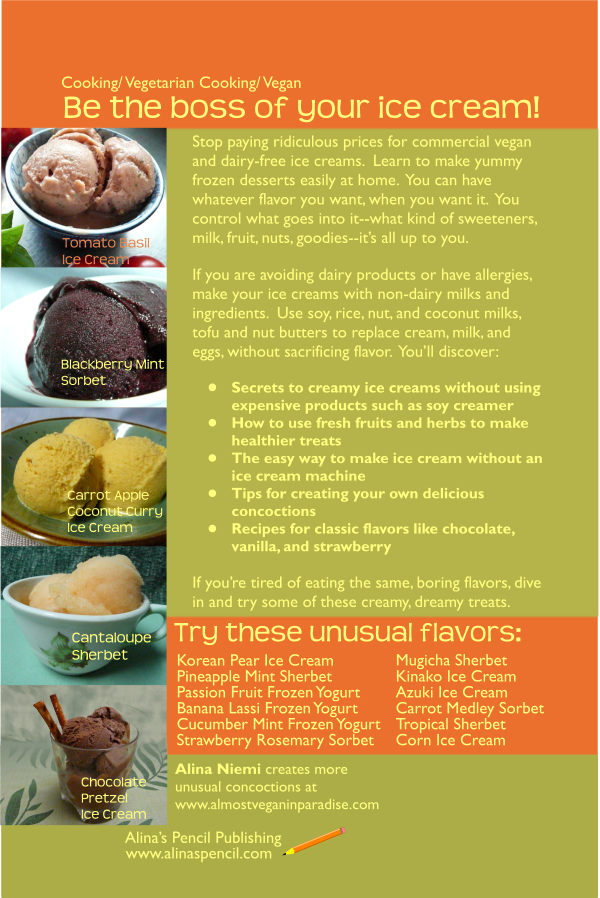 Table of Contents
Read an Excerpt
---
---
If you are interested in getting an ice cream machine, I highly recommend this one:
Cuisinart ICE-21 Frozen Yogurt-Ice Cream & Sorbet Maker
It is electric and works with a frozen canister that you can keep in your freezer, so you can make ice cream whenever you feel like it. You plug it in and let it do the work.
My favorite spatula for making ice cream
This spatula has a stiff, straight edge that works perfectly for cleaning out the inside of the ice cream maker canister without scratching it. You can also use it to scrape the ice cream base out of the blender and into the machine.
---
Disclaimer: I am affiliated to the products recommended on this site.